(KTSG Online) – The 11th Dong Thap Provincial Party Congress for the term 2020-2025 emphasized the policy of agriculture 4.0 and private economic development. Currently, although he is focusing on directing the prevention of the Covid-19 pandemic, Mr. Pham Thien Nghia, Chairman of Dong Thap Provincial People's Committee, still gives KTSG Online an exchange around these two contents
Mr. Pham Thien Nghia, Chairman of Dong Thap Provincial People's Committee (center), talking with a flower business owner in Dong Thap. Photo by: Cong Minh
KTSG Online: First of all, let's talk about Dong Thap's efforts to do agriculture 4.0, develop the agricultural product processing industry to avoid the situation of stagnant agricultural products that must be "rescued". Sir, how has the province advocated the development of hi-tech agriculture?
– Mr. Pham Thien Nghia, Chairman of Dong Thap Provincial People's Committee: Dong Thap is promoting agricultural restructuring, applying science and technology 4.0 to agricultural production, contributing to reduce costs and increase profits compared to traditional production. In particular, the locality has identified a new direction as a safe production organization (VietGAP, GlobalGAP, organic production), production according to high-tech processes combined with eco-tourism to help increase income for producer.
In recent years, Dong Thap has taken lead in restructuring the agricultural sector. Right from the beginning of the implementation of this project, the province has determined the most important solution that decides the success of this project is to change the perception of farmers. How do farmers change their thinking of agricultural production to doing agricultural economics; take the initiative in production and consumption of agricultural products; production must take into solve the problem of consumption. Only that way they can save themselves. The government only has the role of leading, can not be replaced them.
Towards, the province will strongly restructure the agricultural sector with the motto "Cooperation – Linking – Market" and "Reducing costs – Increasing quality – Fine processing" with the aim of transforming "the high-yield agriculture" to "high-tech, ecological, responsible, sustainable agriculture"; increase the value of agricultural products, increase income for farmers.
To achieve those above goals, the locality continues to focus on transferring technology, raising awareness, transforming farmers' thinking, towards building professional farmers who can adapt to the digital agricultural economy, economic agricultural cycle. The province is concerned with opening up the market, supporting people and businesses to join electronic trading floors to buy and sell agricultural products, to be proactive in consuming agricultural products in all circumstances, especially in the current pandemic situation.
KTSG Online: Can you talk more about Dong Thap facing to challenges such as finance, technology, people…  in this regard?
– Finance, technology, human resources, including policies… will promote the development of high-tech agriculture. It can be said that in order to develop hi-tech agriculture, a huge resource is required. This is also a big challenge for Dong Thap.
Towards, our locality will promote the implementation of the policy of diversifying capital sources by encouraging the attraction of organizations, individuals, and all types of businesses, especially domestic and foreign enterprises, scientific and technological organizations to invest in hi-tech agriculture.
In addition, the locality will continue to promote administrative reform, creating a favorable environment to attract businesses to invest in hi-tech agriculture. Promulgate mechanisms and policies to encourage enterprises and farmers to produce goods on a large scale, creating conditions for the introduction of high technology into production.
The province must improve the quality of agricultural human resources, especially high-tech agricultural human resources to meet the requirements of industry restructuring and the context of the industrial revolution 4.0 and international economic integration. Dong Thap will also promote vocational training for farmers in the direction of "intellectualizing farmers"; training according to the needs of enterprises and the market; withdraw labor from the agricultural sector and retain the contingent of "professional farmers".
KTSG Online: So what are the results so far, sir?
– Dong Thap has achieved many important results in restructuring the agricultural sector, some models are also models of the whole country. Particularly for high-tech agriculture, this is only the initial result.
The province also has 161 products recognized as OCOP products with 3 to 4 stars, which are enterprises, cooperatives and business households; are officially promoted on Dong Thap e-commerce transaction page and major e-commerce sites such as Tiki, Lazada, Shopee.
KTSG Online: Please turn to the story of the private economy. For a long time, Dong Thap has always had the PCI index in the top of the country. How has this fact affected the investment attraction of enterprises, especially private enterprises, in Dong Thap, sir?
– In 2020, PCI Dong Thap continues to hold the 2nd position out of 63 provinces and cities. This is the 13th year in a row, Dong Thap province is in the group of 5 and for the 7th year in a row, it is in the group of 3 of the provinces and cities "with the best quality of economic management in the country". When inviting businesses to Dong Thap to invest, we do not use the local rankings achieved but pay attention to creating conditions for them to develop, how to keep businesses attached to the locality. Provincial leaders thoroughly adhere to the policy of "accompanying businesses".
This policy is implemented synchronously from provincial to grassroots levels in a new way, proactively contacting and enhancing interactions to grasp the situation and promptly remove difficulties for businesses. It can be said that Dong Thap's strength and difference is its people, the pioneering and aggressiveness of provincial leaders and authorities at all levels in solving problems related to investment activities, private – business of the enterprise.
Therefore, in 2020, despite the appearance of the Covid-19 epidemic, Dong Thap has 610 newly established businesses, with a total registered capital of more than 4,000 billion. This is also the year Dong Thap has the highest number of newly established enterprises ever, and in the first 6 months of this year, the number of newly established enterprises is also very positive, nearly 300 enterprises, an increase of over 15% over the same period in 2020 with a total registered capital of over 2,400 billion VND; the scale of capital increased by over VND 1,200 billion compared to the same period last year, although the Covid-19 epidemic is still raging.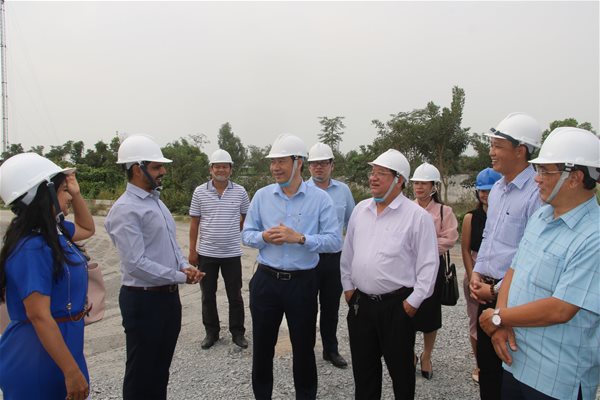 Mr. Pham Thien Nghia, Chairman of Dong Thap Provincial People's Committee (4th from left) surveyed a construction site in Dong Thap. Photo by: Cong Minh
KTSG Online: But it seems that, apart from a few big brands like Vinh Hoan, Sao Mai… other large ones, leading private enterprises ("the eagle"), have not appeared much in Dong Thap. So how to make the private economy grow stronger in Dong Thap, sir?
– Recently, Dong Thap has paid special attention to investment promotion. Thereby, attracting investors such as Sao Mai Group, C.P Livestock Joint Stock Company. Vietnam, Masterise Group Joint Stock Company… Representatives of the Consulate General of Australia, Japan, France… also came to Dong Thap to work and learn to cooperate in potential fields and strengths of the company consciously.
The province also promotes the implementation of cooperation agreements with signed corporations such as T&T, Novaland, Guilin Group… Therefore, upcoming time, many projects will appear in province in the near future. There are also investment projects in agriculture and rural areas.
In order to attract stronger investment, the province advocates taking advantage of resources to promote investment, synchronously develop infrastructure, especially traffic infrastructure, to facilitate the connection and circulation of goods, and increase the province's competitive advantage.
Besides expanding and upgrading existing provincial, district and rural roads, Dong Thap will invest in building new roads, creating a foundation for connection and development of agricultural fields, industry, tourism in harmony with urban development.
The province takes advantage of investment capital to expand national highways, prioritizing the construction of An Huu – Cao Lanh expressway in the 2021-2025 planning period to connect and effectively exploit the expressway infrastructure system in West and East of the Mekong Delta (the route Trung Luong – My Thuan and Lo Te – Rach Soi – Vam Cong bridge – Cao Lanh bridge).
Dong Thap continues to improve the quality of human resources to meet development requirements in the context of approaching the fourth industrial revolution and international integration as well as paying attention to training technology transfer, economic knowledge management for farmers.
In addition, Dong Thap is strongly implementing solutions on administrative reform and control of administrative procedures in order to shorten the time to handle administrative procedures, create favorable conditions for businesses and people, and contribute to the improvement of administrative procedures, business investment environment; encourage the proactive and creative spirit of the heads of industries and levels, in order to well perform the role of the government in creating and accompanying businesses.
KTSG Online: So, can you imagine what the economy and life of the people in Dong Thap will be at the end of this term so that they're no longer have to compare Dong Thap as a "hidden" province of the Mekong Delta? 
– Not waiting so long, at the present, Dong Thap has overcome the curse of "going away". With a sense of responsibility to the province's 1.6 million people, provincial governments at all levels continue to promote dynamism and creativity in management and administration; and with the transformation of people's thinking along with the available potential and advantages, Dong Thap is aiming for fast and sustainable development, people have a prosperous life and the locality is really a worth living place.
– We would also like to add that with a clear orientation development  in each field, especially in the fields of agriculture and tourism, in coming years, Dong Thap will certainly continue to develop in all aspects. Economic growth continues to be quite good, people's living standards are increasingly improved.